For those who read
Teen Vogue
, you must be pretty familliar with
Eva Chen
...for those who don't, ever wondered what it's like to be in the shoes of a beauty editor for a major publication?
Eva Chen, beauty & health director at Teen Vogue

So, before we get into the other stuff, let's start with how you ended up at Teen Vogue
I ended up here as a fluke almost, I never expected to be a beauty editor, so it's been a really unexpected journey. I was pre-med from pretty much the moment I was born, so I've always been into health and wellness. I went to Johns Hopkins where I was pre-med for three years , but then I decided I wanted to try something totally different for a change. I wanted to try something that was like "fun" and "cool" so I just applied everywhere under the sun - I think I sent over 100 resumes - and was eventually offered an internship in features and beauty at Harper's Bazaar. It really stood out to me because it sounded great, but also because it was paid. It was the exact month that Kate Betts was starting, people were really mourning Liz Tilberis, so it was an interesting time because the magazine was reinventing itself. First day, I wore Miu Miu shoes - I was so excited. I also changed out the beauty closet on my first day, because it was the end of the season, so I got to take so much cool stuff home. What I remember most was that I couldn't believe I was getting paid to be surrounded by beauty products!

It sounds like you felt really lucky.
Definitely. I realized while I was there that I really wanted to do this, and I got really lucky because the assistant had just left so I got the experience of filling in for her sort of, which I think really helped me down the line.
So what happened after that?
Well then I did my senior year at Oxford and came back to New York really wanting a job. But it took me six months because the economy was kind of bad at that time. I freelanced in the fashion closet at Lucky for a while, then I ended up as an assistant at ELLE because someone I knew from Bazaar had moved there. I got to write a bit there, which was great, but I was also going to Columbia for a Master's in Journalism part-time, which was ridiculously stressful. I basically had no weekends for two years.
Do you think J-school helped you?
I mean, it wasn't the most necessary thing, especially for working in fashion, but I definitely think it was worth it. It was mind-opening and it gave me a lot of experience with reporting.
So how did you go from ELLE to Teen Vogue?
Well I was at ELLE for about three years, and then Teen Vogue hired me on and I've been here about 3 1/2 years - wow, I can't believe I've been here that long already!
So what's your average day like here?
Everyday is different, I really am so lucky to have a job where everyday isn't the same.
Ok, so let's start with what it is that you're in charge of. Like, what needs to happen on your end?
I'm supposed to provide readers with inspiration for new looks, tell them about all the new cool stuff, help them - they're mostly teen girls, obviously - with decisions they make concerning their bodies, like about smoking, sex, eating, etc. We try not to be too nag-gy, in fact we try to really get the voices of other teens to really get the point across. I also give readers insider/backstage access, so like instead of just covering a show, I'll go backstage and interview the makeup artists and hair people, so our readers can really see what's going on.
So how does that translate into your average day? Like, from the moment you wake up.
Well, I usually wake up around 7:45, then I usually just get up and embark on my skin beauty routine. It takes me like 20 minutes just to wash my face, but then like two minutes for makeup and 2 seconds to get dressed.
Oh my god. Tell me everything about this face washing.
Hah! Ok - first I wash with Effaclar from La Roche Posay, then I use a serum. Right now, I'm using Lancome Genefique, I think it comes out next month. Then I wait like 10 - 15 minutes to let it sink in, and then I always use SPF, lately it's Avon Anew SPF 25. I put that on my face, neck and the backs of my hands. Then, if I have time, I'll use Clinique SPF eye cream, since that's the first place to go. Then I use lip balm from Liz Earle, then I curl my lashes, but I also sometimes use lash serum.
Wow. Ok, so, after that...
On most mornings, I have breakfast meetings to connect with publicists. We usually meet at Balthazar or 44, usually at 9am. These breakfast meetings have been happening more and more since brands are trying to cut back on all the big events, too, so I have them a lot. So, I usually get into the office around 10am.
What's the first thing you do?
The first thing I do is read. My assistant has all my papers ready by the time I get in, so I just go through them all, which takes about an hour.
What exactly do you read?
The New York Times, The Wall Street Journal, USA Today, New York Post, Daily News, WWD, The Observer, Time, Newsweek, all the tabloids - so much stuff. I read through them, cut out articles that are interesting, tag stuff - I'm always on the hunt for ideas, especially medial studies, facts that I can use in the future, etc.
Which do you read first?
WWD, always. Then Page Six, The Times, Daily News, Wall Street Journal...
Do you make your assistant fan them out in a certain order Devil-style?
Hah, no! She stacks them for me on this chair I keep next to my desk. That way, I can just kind of reach under and grab what I need without having to look. The stack is like five inches high.
So then what?
Then I usually go to the Art Department to look at layouts to get Amy's feedback. She looks at them every night, then the book comes back with notes, and then I work with the Art Department in the event that there are notes on my pages.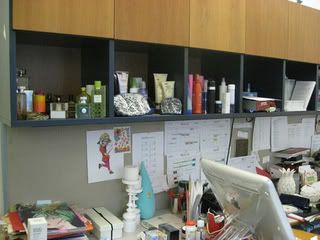 What are the notes usually about?
Making sure the pages look clean, making sure the right products are in, the pictures make sense, there's enough happening/not too much happening - just making sure we're striking the right balance while getting all the necessary bits in. So this brings me to the early afternoon, at which point I usually have an event, like 2 - 3 times per week. These events can be anywhere and for anything, for example I just went to a fancy one at the Four Seasons for Estee Lauder's Advanced Night Repair. But you usually don't get back into the office until like 2pm, so I split up the events with my team so we all have to do them.
What happens if you don't have a lunchtime event?
If I don't have lunch plans, I usually just go to the cafeteria just because it's so fast and it's right there. Then, I catch up on my e-mails, which are everything from story pitches to readers writing in with questions, and then by this time of day there's always some kind of situation.
Situation?
Yeah, like hearing that a story's been bumped, which means that I have to start editing something completely different so it can be published instead. I also assign stories to freelancers, so I spend at least an hour a day editing, because you never know when you might need a story suddenly. Also, these days, I blog on my down time. I try to do like five posts per day. They usually go on backlog so the web team has something to put up, but if it's timely I'll do it right away. Also, on some days, I'll have shoots. I usually try to stay for the first couple shots, but that can be like six hours after figuring out everything between the model and the hair and makeup people. Sometimes, the photographer just simply doesn't like the model, and then I end up on the phone trying to book another girl with an agent, this can take hours, and all this is before the shoot itself has even happened.
What about during Fashion Week?
Fashion Week is insane, because on top of everything else, I'm running around town trying to interview people backstage, but also trying to watch the shows.
Wow. Have we missed anything?
Sometimes I do these things called desk-sides, it's when PR people come to your office to present products to you. It only takes like 15 - 20 minutes so it's really productive. Oh! And I also give tours of the office sometimes, to readers who've won the chance in a contest, or sometimes they're friends of someone that works here.
So how do all these beauty products end up in your office?
They come all day long from PR people. I get at least 100 products a day, so I'm constantly clearing stuff out just to maintain some order!
What about after work?
There's usually an evening event, so I go to those. They usually last until about 7 or 7:30pm.
Do you ever work from home?
I never really work from home, except I sometimes catch up on my blogging over the weekend.
Tell me more about the products. How does this work?
So much of it is just sorting through all the products so I can just know what's out there - Like, who's making what, what are the trends, what's new, what's interesting, etc. Everyday, all day long, PR people send out beauty products to beauty editors. And they send tons. A lot are not appropriate for Teen Vogue, like Botox in a Bottle, or something that isn't aesthetically pleasing. But yeah, we get makeup, face stuff, SPF, shampoo, candles, soaps - everything. My assistant is the one that opens the packages. She lays the products out on my desk and couch so I can see them, always on top of the corresponding press release so I can just glance through and get an idea of what it's about. Anything with the potential to be shot stays in the office, it usually just hangs out on my desk, or sometimes I'll take it home to actually try. Everything else goes into this huge bag, and the interns take it to the beauty closet to file it away just in case we need it for something - Like sometimes, a stylist will say that she really needs blue nail polish, or orange lipstick, or whatever, and it's just so much faster to grab it from the closet than to hunt it down another way. Sometimes we'll also just need to put a product page together super fast, so the closet is kind of more like a pantry than a closet.